Have now received many confirmations from Birders and even experts about my
Osprey sighting at Ronald Bog Park in Shoreline on Friday, July 30th.
Check my previous post from yesterday for details and photo.
Osprey
photo credit-Seattle Audubon
http://www.birdweb.org/birdweb/bird_details.aspx?id=96
Here are some details from
Seattle Audubon
Bird Web
-
General Description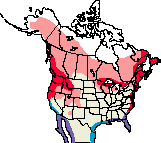 The Osprey is a unique bird that is unmistakable when seen at close range. It is the only species in its family, and it is found worldwide. Its breast and belly are mostly white, with some dark streaks. The white extends out the wings, but the primaries, secondaries, and tail feathers are mottled black-and-white. The back is mostly black or dark brown. The head is distinctive with a white crest, a face bisected by a dark eye-stripe, and yellow eyes. While there is much variation, the female tends to have a streakier breast than the male. The Osprey's talons are uniquely adapted for catching and carrying fish: their surfaces are rough, and their toes can be held with three forward and one back, or with two forward and two back, an arrangement seen in owls but not in other diurnal raptors. In flight, they are most often confused with gulls because of their long wings, which are bent at the wrist. However Ospreys have a bounce to their flight that gulls
Thanks to all who care about Wildlife Habitat in Shoreline!
Send me more sightings!
Happy birding!
Janet